EGN 3: Defilement of a Porcelain Doll Limited Edition Big Box
$

70.00
Sold out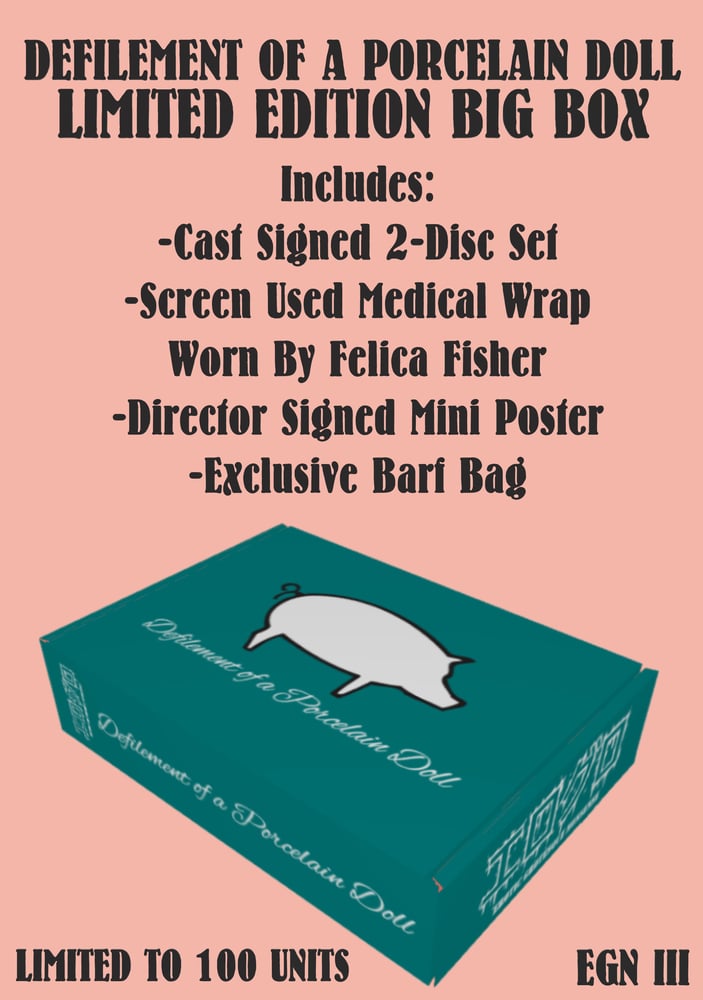 THIS IS A PRE-ORDER. ITEM WILL BE SHIPPED OUT ON RELEASE DATE 12-1-2022. ALL ORDERS PLACED ALONG WITH PRE-ORDER ITEMS WILL NOT BE SHIPPED UNTIL RELEASE DATE.
Limited Edition Big Box release of Erotic Grotesque Nonsense III: Defilement of a Porcelain Doll. Like the Big Box released for the previous EGN titles, this set is only limited to 100 units and they always go by quick, so act now or cry later.
This set includes:
-Cast Signed 2-Disc DVD Set
-Screen Used Medical Wrap Swatch Worn By Felicia Fisher
-Certificate of Authenticity
-Director Signed Mini Poster
-Exclusive Barf Bag
+More
In Barf Bunny we dined on the delights of emetophilia. In The Degenerates we witnessed the matrimony of necrophilia. Now in this third instalment in the Erotic Grotesque Nonsense zietgeist, we relish in the pleasures of salirophilia. The fetish of taking something beautiful and making it ugly. A paraphilia which truly honors the filthy.
Defilement of a Porcelain Doll tells the story of a deranged artist living beneath the train tracks of a city in ruin, as she abducts women and uses them as canvases for her artistic catharsis. Taking their indecent bodies and purifying them through obscenity and putrefaction. Starring Little Puck, Felicia Fisher, and Jessica Murphy; with special FX by Jessie Seitz and James Bell. This is where the boundaries of art, beauty, and morality are lost and forgotten.
Two-Disc Set Includes:
Feature Film
Making of Segment
Interviews
Music Videos
Trailers
+ More