EGN III: Set Used Treatment Signed by Felicia Fisher & Jonathan Doe
$

100.00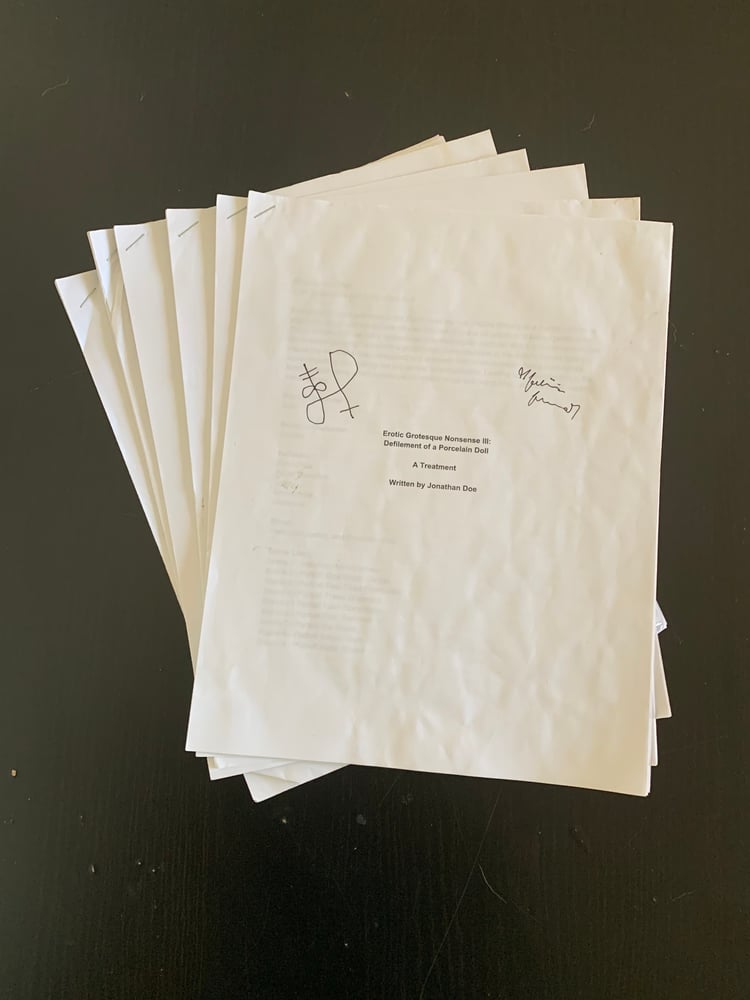 THIS IS A PRE-ORDER. ITEM WILL BE SHIPPED OUT ON RELEASE DATE 12-1-2022. ALL ORDERS PLACED ALONG WITH PRE-ORDER ITEMS WILL NOT BE SHIPPED UNTIL RELEASE DATE.
Jonathan Doe's films are known for their improvised dialogue and performances, and part of this stems from the fact that Doe does not write full scripts for his films, but instead relies on the film's treatment. This allows (and forces) actors to improvise dialog for their characters on the spot. A treatment is a document that presents the story idea of a film, usually before an entire script is written. Treatments are often written in present tense, in a narrative-like prose, and highlight the most important information about the film, including title, logline, story summary, and character descriptions. This is the treatment for EGN III: Defilement of a Porcelain Doll. This treatment was written by Jonathan Doe with collaborations from Felicia Fisher and Little Puck.
Six copies of this treatment were printed out and used on set during production of the film. These documents were utilized and referenced by the cast and crew during production, which is why you can see the visible wear on the pages. All six copies were saved and have been signed by director Jonathan Doe and actress Felicia Fisher. These are a true piece of Erotic Grotesque Nonsense history, and a unique inside look into the process of making these films.
Only six of these exist, and then they are gone forever.